Social-ecological couplings in Helsinki
Two residential areas: Kalasatama and Kuninkaantammi in Helsinki are study sites for WP3: Socio-ecological couplings and psychological restoration.
Kalasatama is being developed and branded as a model district of Smart City Development. It is a former harbour and industrial area owned by the city of Helsinki and located in east-corner of the urban core, only 6 minutes by metro from the centre. Kalasatama is one of the largest ongoing development projects in Helsinki – by 2040 the area will be inhabited by 25 000 residents and over 10 000 workplaces. Constructions started in 2009 and first residents moved to the area in 2012.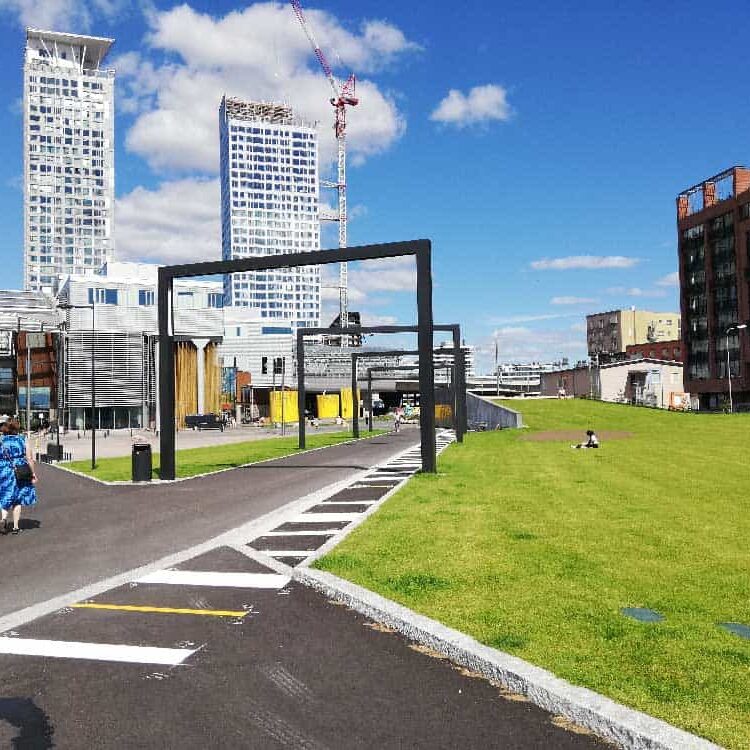 Kalasatama is fast growing urban area where first residents will be living in the changing environment for many years to come. At the heart of the area is commercial centre REDI with easy access to the metro network (Kalasatama metro station). The urban landscape around REDI will change during next years since in total seven high-rise buildings with 32 to 35 floors (tallest residential buildings in Finland so far) will be built.
The planning vision of Kalasatama is  "Smart services save one hour of citizen's time each day" . The City aims to develop the area through piloting and testing of new sustainable and smart solutions and services – e.g. different technology orientated solutions within the architecture and infrastructure. Smart solutions are for instance digital applications helping people to share cars, smart locks enabling citizens to use many spaces in the area for different activities and smart waste management systems.
Kalasatama has been a platform for various research initiatives throughout its development. Smart Kalasatama (fin. Fiksu Kalasatama) program is coordinated by a separate innovation unit within the Helsinki City, Forum Virium Helsinki. Program coordinates infrastructures and projects, hosts experimentations and pilots. Another distinctive feature of the area is the aim of using urban art projects (permanent, temporary and events) in order to enhance the wellbeing and coziness of the residents in changing urban living environment.
During the past decades, the waterfront of the area have been expanded with infilling. As a former harbor area and due to very high urban structure there is limited amount of green spaces available, and they are mainly human-constructed parks, green roofs and closed block yards. Yards are mainly built on roof tops with decorative planted species. For outdoor recreation, the residents in Kalasatama are heavily dependent on the Mustikkamaa island that can be accessed along a new bridge occupied only for pedestrians and bikers.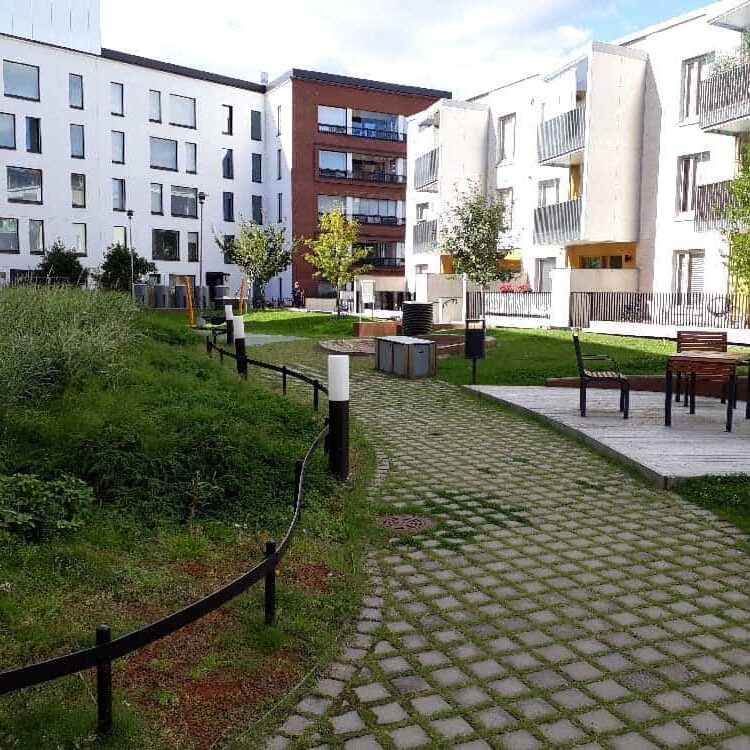 Kuninkaantammi / Helsinki
Kuninkaantammi area has been developed emphasizing climate smart solutions – energy efficient housing and nature-based solutions (NBSs) in stormwater management. Before the development, the area was partly industrial brownfield and partly woodland and scattered detached housing area. Some of the old buildings will remain (e.g. water treatment buildings), and earlier build low-rise residential blocks will remain and expand. The area will be inhabited by 5000 inhabitants and 1000 workplaces by 2027. Constructions started in 2013.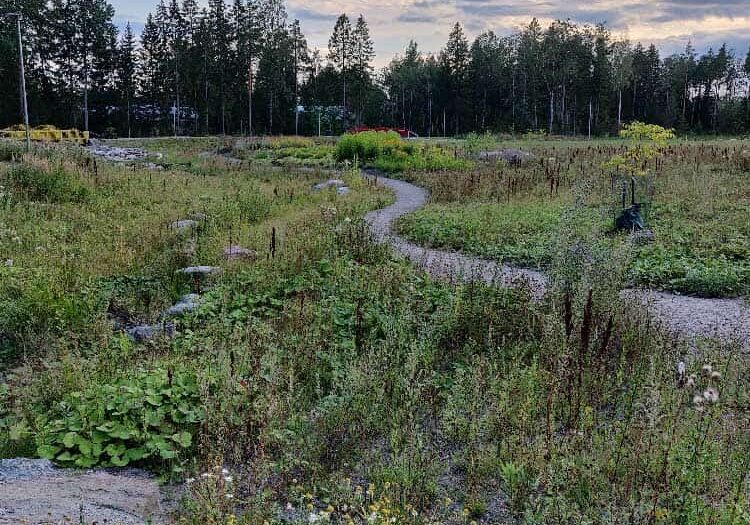 Kuninkaantammi is situated in the northwest corner of the city – approx. 30 minutes by bus from Helsinki city centre. The area is a combination of urban and green with housing blocks of 4-5 floors to terrace and detached houses. Kuninkaantammi has basic commercial and public services – corner shop, school and daycare. Based on travel-related zones of urban form (see for example Helminen et al. 2019), Kuninkaantammi is situated partly in the intensive transit zone, transit zone and car-orientated zone. This describes for example how Kuninkaantammi is partly a car-orientated city with some options for public transport.
Kuninkaantammi is a pilot area for sustainable and local stormwater management and the focus of planning and development is especially on their visibility - combination of technical and recreational use of the NBS's. In the urban planning process, green factor tool was used. In addition also earthworks and mass coordination (balancing demand and supply of soils) received special attention and new solutions were piloted in the urban planning process.
For outdoor recreation, large forest areas of Helsinki Central Park surround the area and recreational routes of Vantaanjoki river are relatively nearby. In addition, every building block has large green yards with trees, rain gardens and growing boxes for urban farming. There are both constructed "urban parks", and natural-like "forest parks" and a park with urban farming possibilities. Palettilampi, artificial pond formerly used in water treatment processed, will be refurbished for swimming area.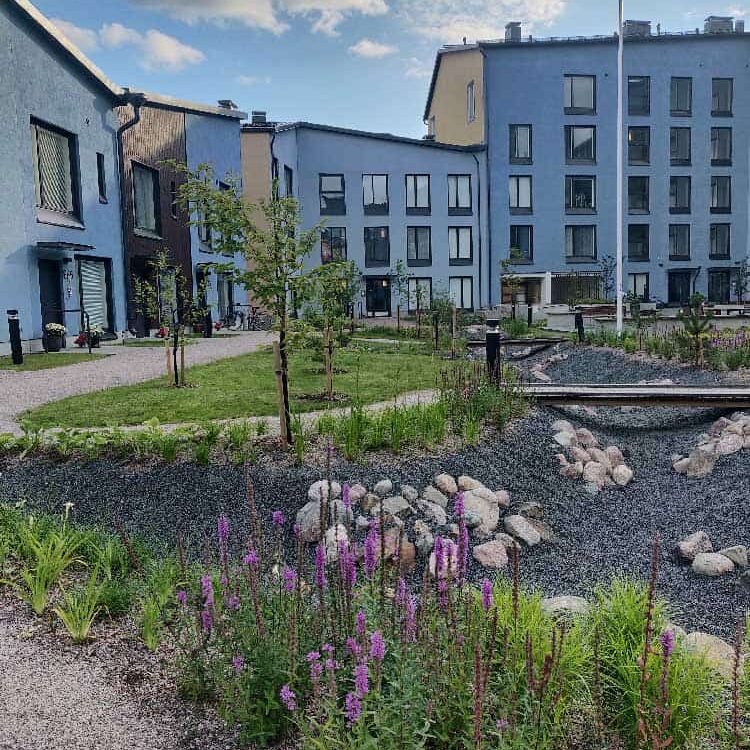 Project coordinator Associate Professor Erik Andersson, erik.andersson(at)su.se
Stockholm Resilience Centre (SCR), University of Stockholm